The Jensen Weight Loss Program is a proven and effective premium weight loss system and in-person training experience based around personal training, accountability, goal-setting, nutrition, and body scans using our state-of-the-art Fit3D Body Scanner.
Our dedicated and passionate team will work with you to:
Set personal goals
Determine the length of time required to reach those goals
Improve your fitness and performance
We will monitor your progress daily as you work through your personal training sessions with our highly trained and amazing personal trainers in our ultra-clean, luxurious, and private training gym.
How Can The Jensen Weight Loss Program Help Me?
At Jensen Fitness, we are committed to providing premium weight loss services, combining experienced personal trainers with state-of-the-art equipment to ensure our clients consistently achieve incredible results on our customized programs. Click here to view our Transformations.
Here Is What You Can Expect:
An Initial Consultation: The program will begin with a consultation addressing your current level of fitness, any injuries or limitations you may have, your goals, and the timelines required to achieve those goals.
Full Customization: We use a state-of-the-art body scanner which takes 800 measurements using an infra-red camera and creates a 3D avatar of your body. These measurements include a posture and balance analysis, as well as all your muscle measurements to check for imbalances, lean mass, fat mass, body fat percentage, and BMR metrics.
A Luxury Training Space: Exercise out of our luxury training space with one of our highly skilled and friendly personal trainers. During each appointment, you'll receive a customized workout session designed specifically for you. Your workout is written on a white board in the gym, so you can photograph it and create an exercise library to use on your own.
Regular Check-Ins: Homework, check-ins, and accountability from our trainers will keep you on track while ensuring you have fun with targeted exercise sessions.
Incredible Flexibility: One thing our clients love is that they are able to workout with any one of the trainers on the team, which not only makes the program more exciting, but also makes scheduling and rescheduling easier.
Greater Convenience: We have an online booking system, text message reminders, and the Jensen Fitness app that allows you to conveniently manage your account and appointments up to 90 days out.
Customized Nutrition Programs: We will provide you with a customized meal program and nutrition strategies, which will teach you the right and balanced way to eat to lose weight and maintain those incredible results.
Your program ends when you reach your goals, and when you're walking away with all of the tools you need to keep the weight off for good. Our goal is to teach you lifelong and sustainable strategies to maintain your weight loss, leaving you feeling confident and capable in all aspects of your life.
Check Out Our Transformations Book Your Free Consultation Today!
What Makes The Jensen Fitness Weight Loss Program Different?
At Jensen Fitness, our team will fully support and monitor you from your first day in the program until you reach your target goal.
Many weight loss programs expect you to go on this journey alone and without the right support system, many clients find the process extremely challenging. Our team will provide you with all the motivation and support you need to transform your body and life.
Luxury Private Gym in Calgary
We are not an open gym. This means that only personal training clients can use the facility, ensuring a safe, clean, private, and non-judgemental health experience that perfectly aligns with your weight loss journey.
Your Weight Loss Journey: What to Expect in the First 4 Weeks
Your weight loss journey will start with an in-depth personal consultation in our beautiful, inviting, and welcoming members-only facility. To determine the best approach and weight loss strategy for you, we will:
Discuss your exercise history
Assess your medical history and current state of health
Look at any injuries or limitations you may have
Use state-of-the-art tools such as the Fit3D Body Scanner to take the required measurements like this: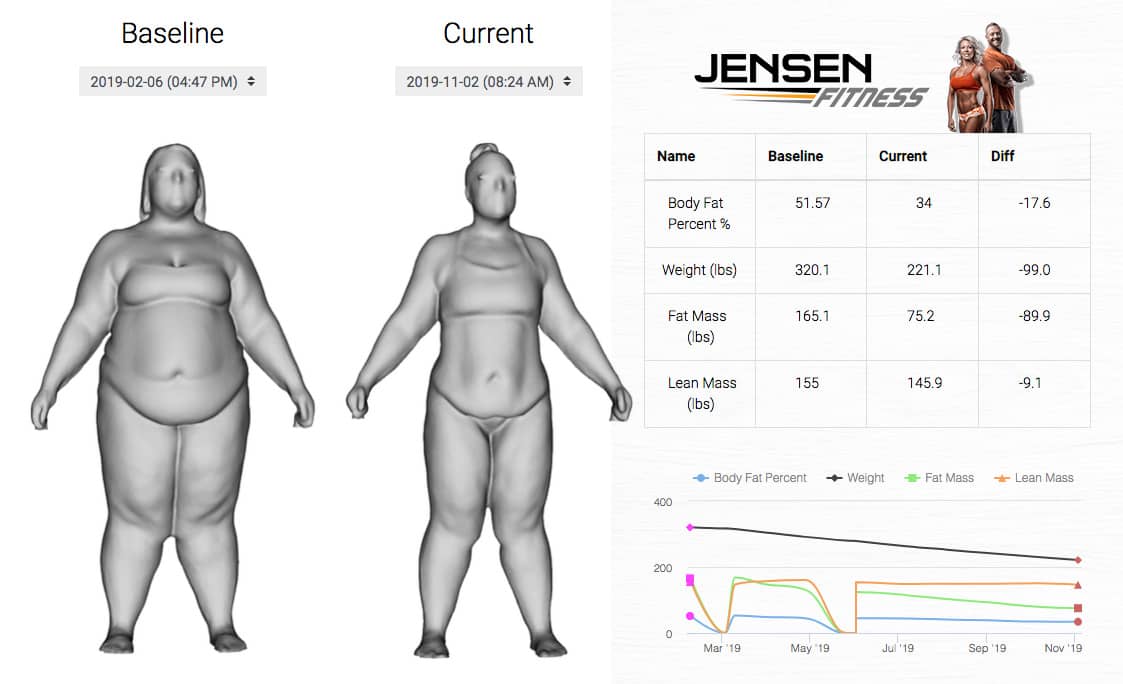 A Premium Weight Loss and Fitness Experience in Calgary
We will also match you with the best trainers and set recurring appointment days and times for you. Our facility is never crowded, as there are a maximum number of private clients that can use the training floor at any given time.
How Long is the Weight Loss Program?
Our weight loss programs are fully customized and one will be designed specifically for you. During your consultation, we will lay out all of your goals and targets, which will then be celebrated along the way. Your goals can be adjusted in order to give you the very best weight loss experience.
Most of our programs are based around 3 month, 6 month, and 12 month plans. On average, it takes approximately 1 week for each pound you want to lose. However, we have had many clients lose 2-3 pounds a week on our easy-to-follow, manageable plans.
How Much Does the Weight Loss Program Cost?
The value that the Jensen Weight Loss Program experience provides is the highest rated in the industry. Make sure to check out our client videos, recent blog articles, transformations, and hundreds of amazing Google reviews.
Health is Wealth
The cost to your health and long-term wellbeing is higher than any investment you could make. That being said, the average client spends approximately $80 per training session or $300-$500 bi-weekly to achieve weight loss goals ranging from 10 pounds to over 100 pounds.
We provide all the tools necessary and show you how to feel better than you ever have before, all while having fun!
I'm Considering Signing Up: What Advice Would You Give Me?
Weight should never be a limitation or barrier to feeling great and living your best life. You deserve to feel comfortable and amazing in your body. Remember, health is wealth, and an investment in your fitness and health is returned 100 times over.
Get started on your transformation! Call, e-mail us, or come down and visit us at 10555 48 St SE #133, Calgary, Alberta, today!