Introduction goes here
Athlete's performance profile
The athletes' scores in selected performance capacities are plotted on a single radar graph to visually represent their profile relative to the normative values. Particular weaknesses in strength, power, balance, speed or endurance capacities can be identified and training can be targeted towards what is important for the athlete.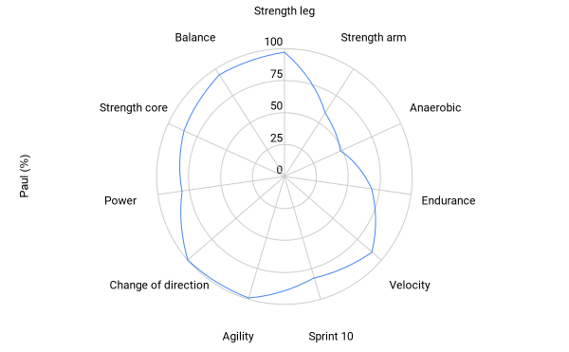 BIOMECHANICS / 2D KINEMATICS TECHNIQUE ANALYSIS at 2 intensities
2.5 Hrs Total, 45-60 minutes gym time, 90 minutes for video analysis and report - $250
We provide a full biomechanics analysis of the sport technique using Tracker, to determine the safest and most efficient way to perform the movement. We can analyze skating biomechanics for hockey, speed skating, figure skating, and cross country skiing.
Comprehensive report including: linear and angular position, velocity and acceleration, center of mass analysis, movement efficiency, asymmetries. Values are compared to reference values. Includes Fit3D Scan and Analysis including body composition and posture analysis.
Tracker: Tracker is an advanced video analysis software program for biomechanical analysis that uses advanced tracking algorithms and built in formulas to calculate body's position, speed, acceleration and joint angles. It also allows us to build formulas to estimate important indicators such as torque, power, coordination, momentum and center of gravity. With this information, we can provide feedback about the movement technique, efficiency, and asymmetries.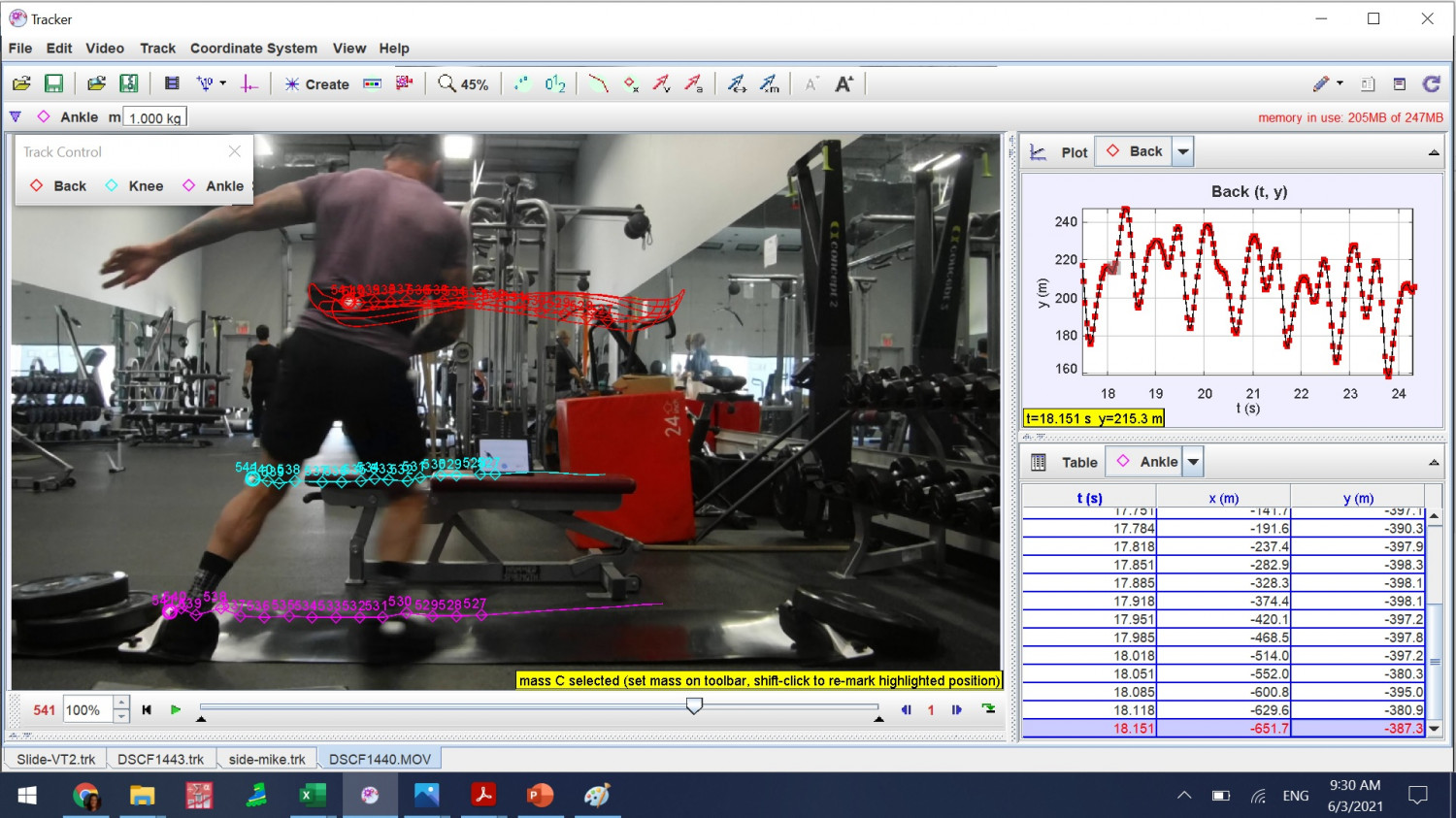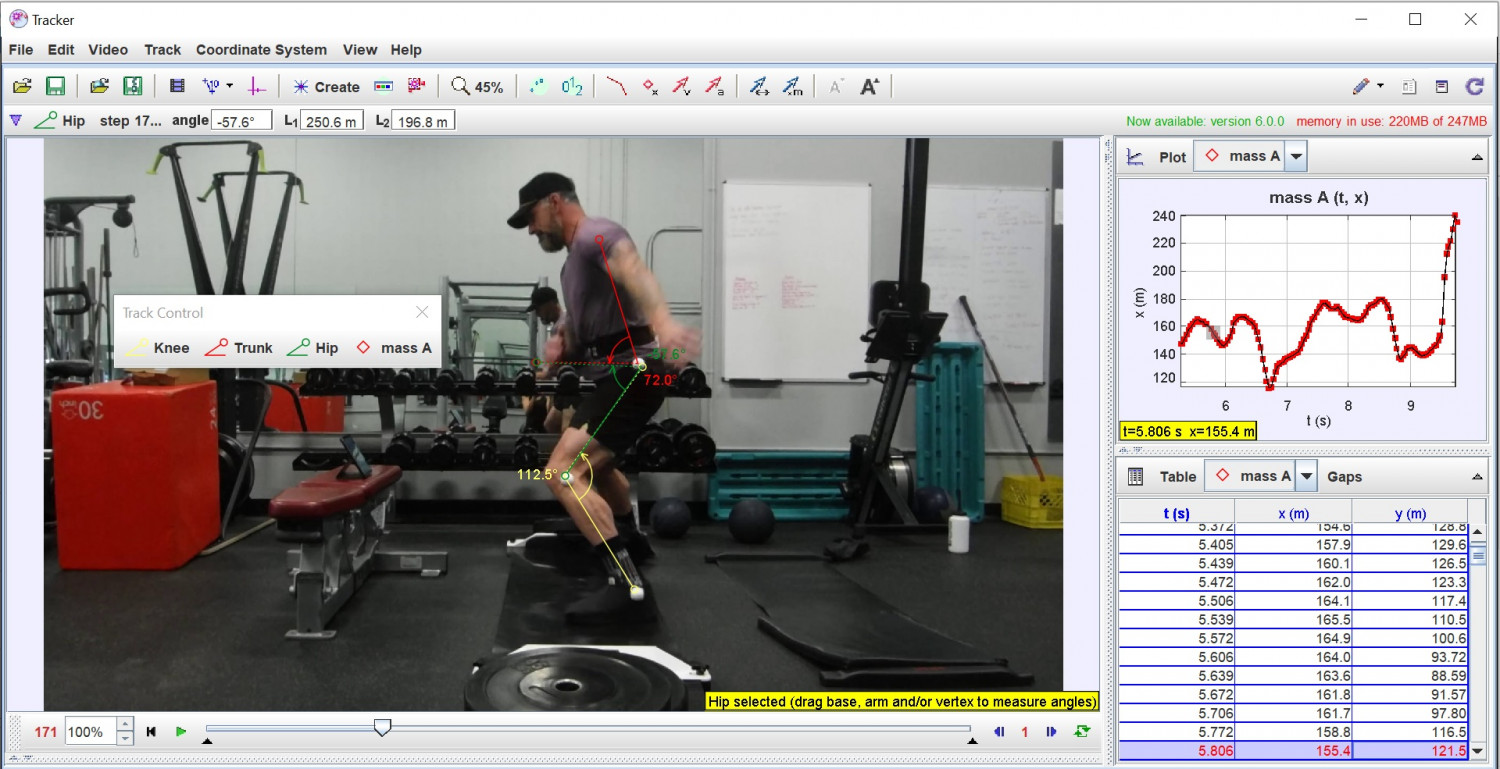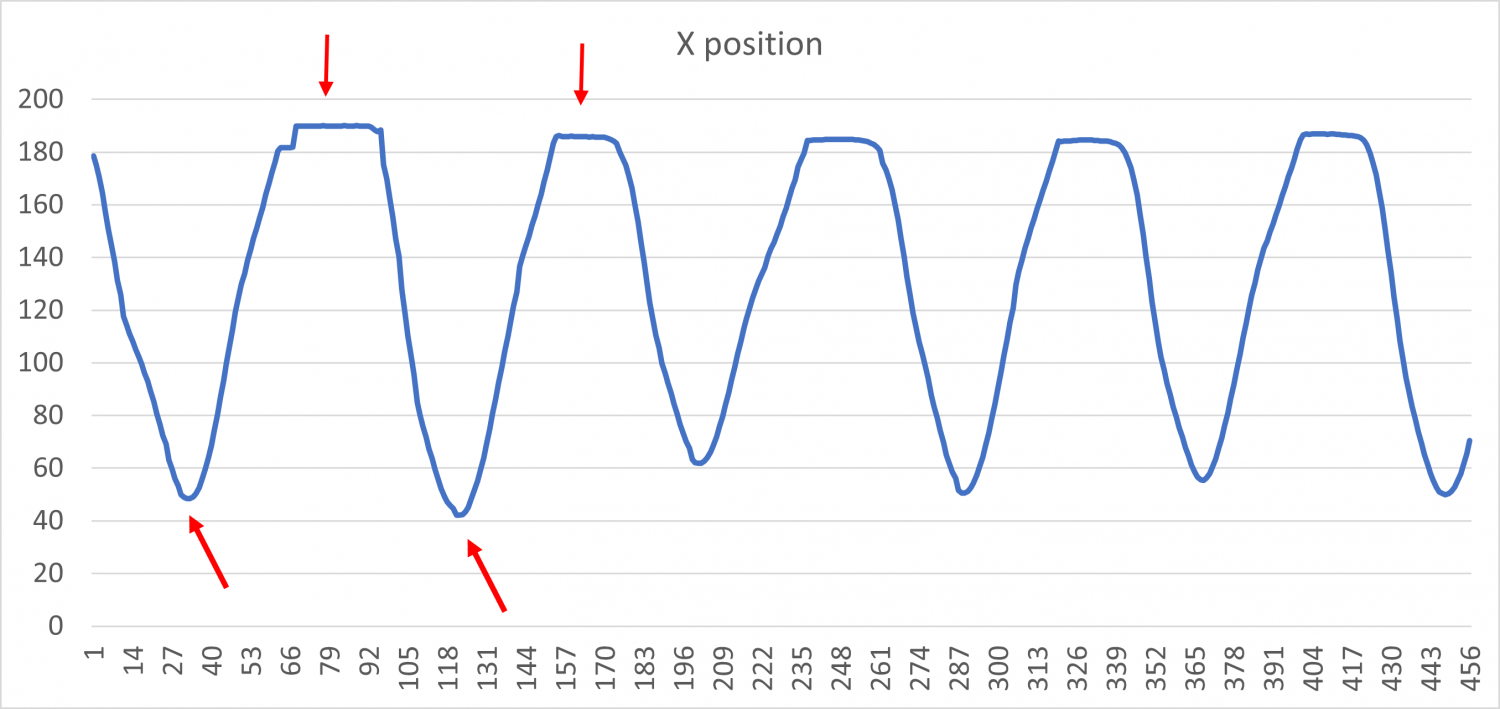 ---
PHYSIOLOGICAL TESTING
2 Hrs Total, 90 Minutes gym time, 30 Minutes for reporting - $220
The physiological tests assess the athlete's aerobic and anaerobic energy system capacities and the physiological responses to maximal and submaximal effort, such as maximal oxygen uptake and physiological intensity thresholds.
ANAEROBIC CAPACITY - The wingate test involves around 30 to 45 seconds of all-out exhaustive effort that measures the peak anaerobic power and capacity and the anaerobic fatigue resistance. The fatigue index measures the ability to maintain power over time or over a series of sprints. It is important to quantify the local muscle fatigue and endurance.
AEROBIC CAPACITY - maximal incremental test on a slide board that is complete at maximal exhaustion. This test measures total aerobic capacity. Results from this test include VO2max, aerobic and anaerobic thresholds. The VO2max is the maximal oxygen uptake capacity, used to establish the aerobic endurance of an athlete and also the ceiling of endurance performance. The physiological intensity thresholds are the turning points for aerobic and anaerobic energy systems. They are useful to determine training intensities.
Comprehensive report including: Peak and average power, ATP-CP and glycolytic anaerobic capacity, fatigue index. VO2max, aerobic and anaerobic thresholds, critical power, HR zones. Values are compared to reference values. Includes Fit3D Scan Analysis including body composition and posture analysis.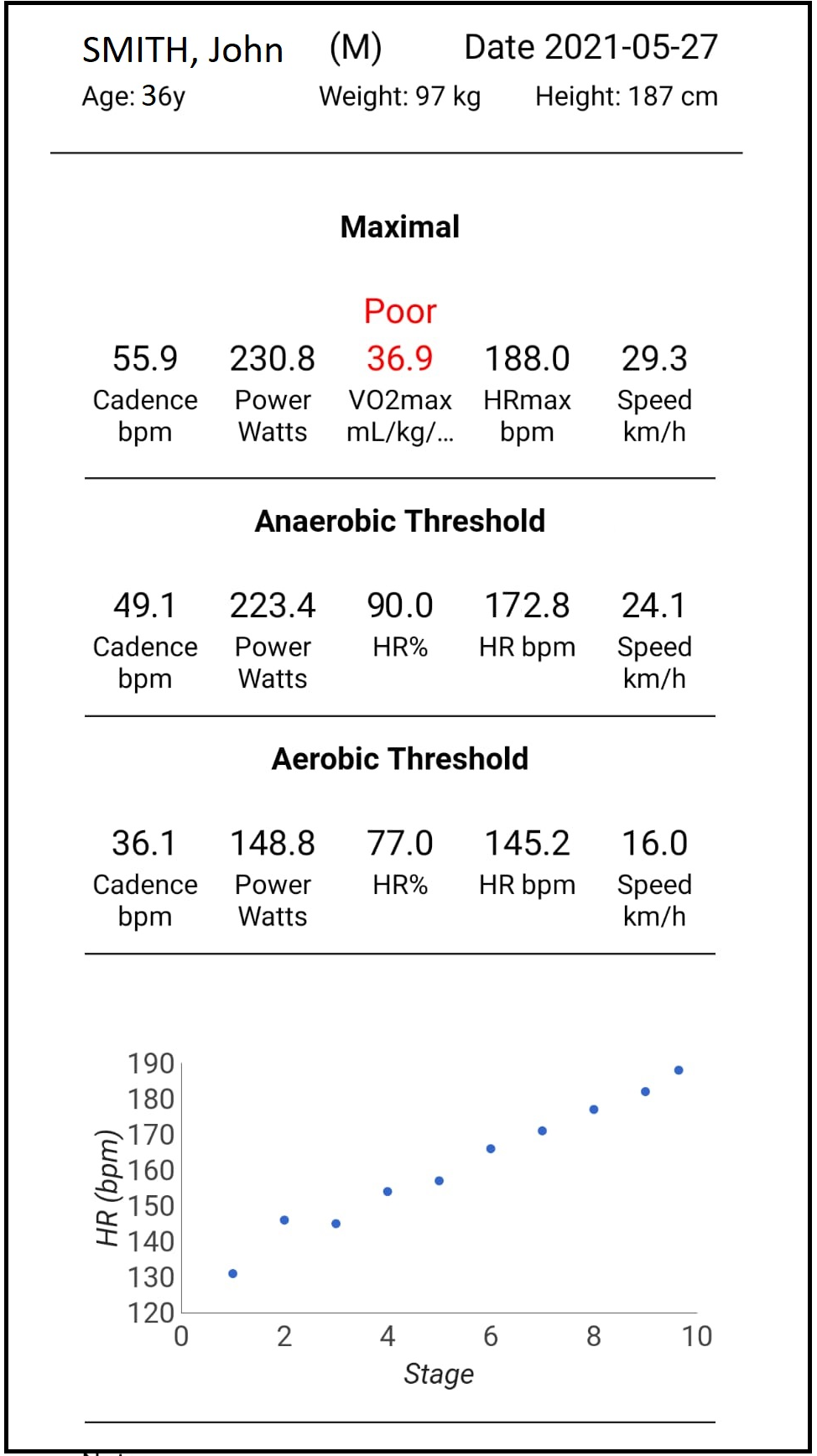 ---
PERFORMANCE CAPACITY / MOTOR SKILLS TESTING
2 Hrs Total, 90 Minutes gym time, 30 Minutes for reporting - $220
Motor skills such as balance,agility, speed, power and strength are important components of sports performance and injury prevention. Tests are specifically designed to measure these skills specifically for each type of sport/exercise.
Y- Balance - evaluates the vestibular and non-vestibular balance. It also assesses your functional mobility and asymmetries between your right and left limbs which can lead to future injuries.
Hexagon - measures agility, coordination and dynamic balance. It is important for quick footwork and rapid changes in direction.
Pro agility 5-10-5 - evaluates the capacity of rapid changes of direction at 180 degrees turnability at high speed. Agility and change in direction are determining factors for many sports and can be trained by increasing joint stability and explosive capacity.
Lateral bounce - evaluates lower limb power capacity in a lateral direction. This movement targets quadriceps, hamstrings and glutes power and knee and ankle stability.
Medicine ball lateral throw - measures trunk and core strength and rotational power. It is important for strong rotational movement and to keep the trunk stable while performing powerful moments with the lower body.
20 m Sprint - evaluates peak velocity and acceleration capacity. Quicker take-off and acceleration is important for short distance competitions and good for making strategic plays for team sports.
Repetition maximum (RM) - The back squat and bench press repetition maximum tests are considered the 'gold standard' for assessing the strength capacity of lower and upper limbs in a non-laboratory setting. Strength impacts performance in different ways. A stronger muscle-tendon unit can improve movement technique, power, and rate of force development.
Comprehensive report including: acceleration, peak speed, change in direction and agility times, balance scores and asymmetries between left and right limbs. Values are compared to reference values. Includes Fit3D Scan and Analysis including body composition and posture analysis.